The latest in MRI at ESUI21: Faster and cheaper
Posted on

November 25, 2021

in News
The first Plenary Session of the ninth Meeting of the EAU Section of Urological Imaging (ESUI21) in Athens instantly delivered on the meeting's promise of examining current and emerging imaging technologies. On Thursday morning, Prof. Jelle Barentsz (NL) and Dr. Giorgio Brembilla (IT) kicked off with their presentations during the "MRI Corner: Faster and cheaper" session.
Prof. Barentsz outlined the strategies to lower PIRADS-III lesions, lesions in which the presence of clinically significant prostate cancer is unclear. He set out six strategies.
The MRI should be of a good quality and should be read by an expert, Prof. Barentsz emphasised. Furthermore, he laid out that the use of a contrast MRI is advised while the use of prostate-specific antigen density (PSAD) may help, too. A double read and the use of artificial intelligence (AI), which Prof. Barentsz co-wrote an article about in European Urology Today, completes the strategy, with one possible addition. "PSMA-PET/CT, but this is a work in progress," Prof. Barentsz said.
mpMRI versus bpMRI
Dr. Brembilla began his presentation "The new mpMRI: Biparametric MRI: fast and accurate" by describing the current concerns surrounding MRI. An increased demand for prostate MRI and a limited availability of MRI scanners and dedicated radiologists and radiographers cause long waiting times while MRI contrast media can bring about side effects. On top of this, MRIs are costly, too.
Non-contrast MRI, better known as biparametric MRI (bpMRI), not only avoids contrast media but is also cheaper and faster with only a minor implication for PI-RADS scoring. "Is bpMRI THE solution?" Dr. Brembilla asked himself and the audience.
The answer, of course, is not that black and white. bpMRI lacks dynamic contrast-enhanced MRI (DCE-MRI). The absence of DCE may lead to a greater uncertainty in lesion identification and scoring.
"The absence of DCE could have an effect on the identification of the lesion, especially when the reader of the MRI is less experienced. We have to select patients who may benefit from bpMRI versus mpMRI," Dr. Brembilla said, sharing an overview that shows how patient-specific this choice can get (see the slide below). At the end of the day, it still comes down to the expertise of the doctor to determine which route to take.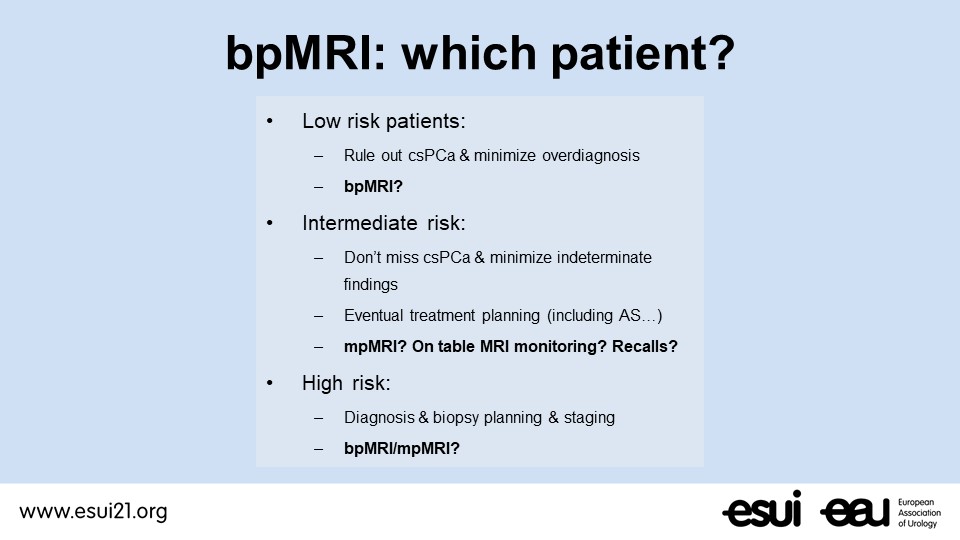 Answering his own question, Dr. Brembilla said: "Biparametric MRI is a potential solution to face the increased demand for prostate MRI."
Did you miss this or any other session? ESUI21 delegates can access all scientific content in the EMUC21/ESUI21 Resource Centre. All presentations, full-text abstracts, and (e-)posters will become easily accessible here as both meetings progress.